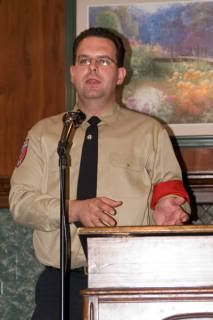 The American National Socialist Workers Party has reportedly targeted the
Jena 6
and called for some vigilante justice.
The FBI is reviewing a white supremacist Web site that purports to list the addresses of five of the six black teenagers accused of beating a white student in Jena and "essentially called for their lynching," an agency spokeswoman said Saturday.

Sheila Thorne, an agent in the FBI's New Orleans office, said authorities were reviewing whether the site breaks any federal laws. She said the FBI had "gathered intelligence on the matter," but declined to further explain how the agency got involved.

CNN first reported Friday about the Web site, which features a swastika, frequent use of racial slurs, a mailing address in Roanoke, Va., and phone numbers purportedly for some of the teens' families "in case anyone wants to deliver justice." That page is dated Thursday.
I have been unable to find a functioning site associated with the national organization. I did, however, locate the blog of "the party's" putative leader, Bill White. Apparently they're IP jumping, because of being shut down. The blog also currently lists the address info, but I will not reprint that here.
Sunday, September 23, 2007

Back On-Line

Comrades:

We are back up on an IP address:

http://208.74.xx.x

and will move to this address:

http://67.159.xx.xx

shortly.

Bill White, Commander
American National Socialist Workers Party

There are a few technical issues involved in moving this, but be patient -- things will be worked out today. Right now, we are waiting for the Overthrow.com DNS changes to resolve and setting up ASP on Hal's Linux box.

-----

This information is still available all over the web and other ANSWP websites, but if anyone is missing it:


Looks like they're pretty determined to get these guys killed.
Editor's Note:
I'm not going to post links or updated IP info because I will not assist them in evil. You'll just have to take my word for it.