Appearing at The Jaundiced Eye, the Independent Bloggers' Alliance, and My Left Wing.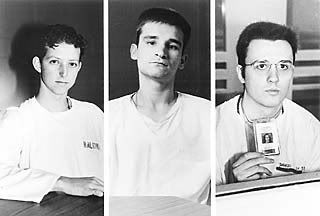 The most fascinating thing about Dixie Chicks' Natalie Maines's newest cause is Fox News's
spin
on the story. Here's their lede:
The Dixie Chicks have a new controversy on their hands. Lead singer Natalie Maines is urging people to contribute money to a defense fund for three Arkansas men that she (and many others) believe were wrongly convicted of killing three children in 1993.
Oh that Natalie, with her outré political notions. She's so controversial. Is it time for another Dixie Chicks cd burning?
The only thing controversial about the cause Maines's has taken on is the prosecution that landed three innocent boys in jail thirteen years ago. And as the article goes on to point out, the conviction of Damien Echols, Jason Baldwin, and Jessie Misskelley has inspired outrage and activism all across America. It has been a cause célèbre for years.
Maines writes her plea on the Dixie Chicks Web site, which has already been answered by several celebrities including, I am told, Johnny Depp, Winona Ryder, Eddie Vedder, Jack Black and Henry Rollins.
Henry Rollins? You mean the former Black Flag front man who put out an album called
Rise Above: 24 Black Flag Songs to Benefit the West Memphis Three
five years ago? That Henry Rollins?
The story of the West Memphis Three came into broad public awareness when HBO aired a documentary on the case;
Paradise Lost: The Child Murders at Robin Hood Hills
. Its film makers became interested in the sensational story of what was reported to be a Satanic ritual murder, carried out by 3 teenage boys. Instead their cameras exposed a town in the grip of "Satanic panic" and the prosecution/perseuction of three boys for wearing black, reading about Wicca, and listening to Metallica. Their follow up documentary
Paradise Lost: Revelations
focused largely on the burgeoning movement to "Free the West Memphis Three." Thirteen years after their conviction, they remain in prison; Damien Echols on death row. They were convicted with absolutely no physical evidence, and on the basis of hearsay, a prison informant of questionable character, and the coerced confession of the mentally retarded Jessie Misskelley. This, even though he recanted the same evening, his confession was riddled with inconsistencies, and he did not testify in court.
The end of this nightmare may now be in sight. New evidence and advances in DNA technology go a long way to clearing these three boys. Some months ago, it was reported that no DNA found at the murder scene belongs to Damien Echols, Jason Baldwin, or Jessie Misskelley. There is DNA that does not exclude the step-father of one of the murdered children, Terry Hobbs, and an associate of his, however. While that evidence would probably not be enough to bring new charges, it most certainly makes the two far more credible as suspects than the three young men currently sitting in prison. More disturbing, Hobbs's ex-wife, Pamela, has come forward with more evidence implicating him. A knife belonging to her late son, and missing since the murders, was found amongst her ex-husband's effects.
What follows is video of the recent press conference of with the West Memphis Three defense attorneys and forensics experts. I watched both sequences last night, in their entirety. They are poorly shot and recorded, but I couldn't peel myself away.
All information in this diary comes from repeated viewing of "Paradise Lost," parts I&II, and from the website dedicated to release of the wrongly convicted Damien Echols, Jason Baldwin, and Jessie Misskelley,
wm3.org
. Also of interest, read Natalie Maines's statement regarding her interest in the West Memphis Three
here
or
here
.