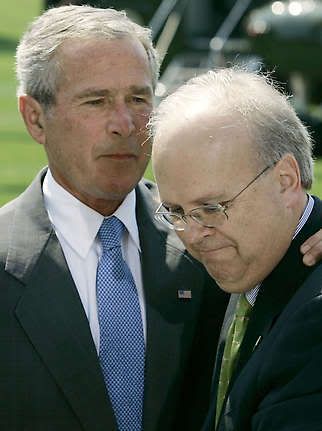 I wonder if
this little revelation
had anything to do with Karl Rove's sudden realization that
he has a family
.
The House Oversight Committee is investigating whether the White House's political briefings to at least 15 agencies, including to the Justice Department, the General Services Administration and the State Department, violated a ban on the use of government resources for campaign activities.

Under the Hatch Act, Cabinet members are permitted to attend political briefings and appear with members of Congress. But Cabinet members and other political appointees aren't permitted to spend taxpayer money with the aim of benefiting candidates.

. . .

The briefings are part of the legacy of White House political adviser Karl Rove, who announced this week that he is stepping down at the end of the month to spend more time with his family. Despite Rove's departure, investigations into the briefings are expected to continue.